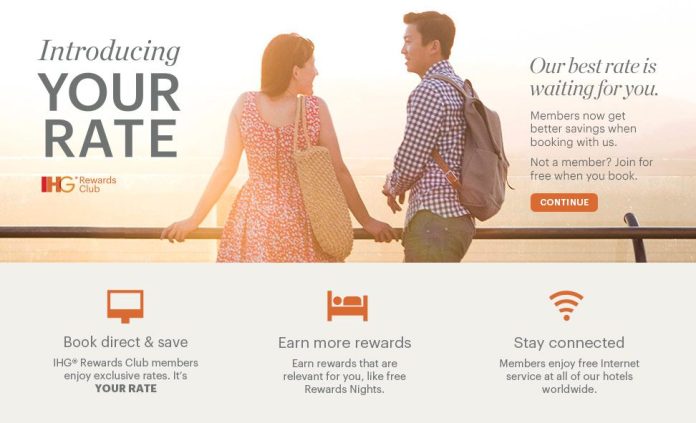 Intercontinental Hotel Group (IHG) is the latest major global hotel chain to cut off loyalty perks for elite loyalty members who make their reservations through an OTA after January 1, 2017.
TravelDataDaily spoke with a top manager from a major Hong Kong hotel chain, who revealed that while more than 50% of their room nights are booked through Online Travel Agents; a significant portion of those OTA customers also hold elite status with the brand. "Not all guests understand the implications of not booking directly on the hotels own website."
Front desk check-in staff at this hotel have been instructed to deny all associated loyalty membership benefits (points, free breakfast, free wifi, room upgrades, lounge access, etc.) and instead hands the guest a coupon for two complimentary drinks and a note to book directly with "brand.com" next time they stay.
Is there a more effective method to drive away, and permanently alienate a loyal customer? This industry-wide practice of denying loyalty benefits when the guest fails to book direct through the hotel's preferred distribution channel is a daily occurrence at many top hotels around the world.
Essentially this is a textbook case on how to turn off a brand loyal customer. Nobody wins in this scenario.
Here's why:
Some hotels employ a practice of denying loyalty benefits to the guest purely because they lack marketing sophistication to drive direct-booking traffic – that is when guests book a room through an OTA – the hotel can be paying anywhere from 12-35% commission per reservation. The hotel justifies not honouring any loyalty benefits to keep a point of difference to strengthen the reason for the guest to book direct and to save paying out commissions in addition to fees paid to the brand for loyalty points and other costs incurred by fulfilling the brand obligations to an elite loyalty member.
The biggest problem with this scenario is the guest won't give a moment's thought to commissions or distribution channels and quite frankly – why should they care? In their mind, they are loyal to the brand by booking a room at this particular property. If the hotel is overpaying on commissions, has lost control of their distribution strategy, or can't effectively communicate reasons to book direct (instead of scaremongering guests by threatening loss of perks) – it's hardly the guests' problem.
At a time when OTA commissions and brand relevance are at an all-time high – hotel brands have a unique opportunity to reposition their loyalty proposition by granting full loyalty benefits to the guest no matter the distribution channel. If hotels want customer loyalty, they will need first to show loyalty to the guest.