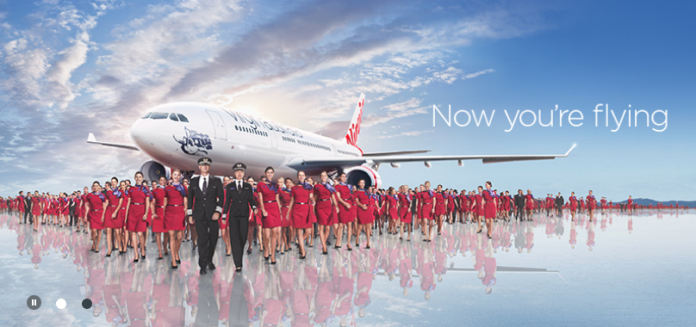 Virgin Australia's loyalty program – Velocity Frequent Flyer made a host of fundamental core changes to the loyalty program this past week.
Most notably are changes made to status credit earning which contribute towards elite status and take effect from January 30, 2017. Read the full list of changes from Velocity here.
Velocity noted that changes to status credit earning will increase on most fares, except the most restrictive fare types in deep discount economy (T, S, M), where status credit earning is cut by as much as 50% down from 10 to 5 status credits on flights under 750 miles within Australia.
While this would appear to be a significant drop in status earning potential for flyers on restricted economy tickets, it's important to benchmark the earn rates against the major domestic competition, Qantas.
The most important part of my analysis on the program earn changes is we need to remember that a Qantas status credit and a Velocity status credit are not equal. Qantas has a much higher threshold to acquire status (300/700/1400 status credits) than Velocity (250/500/1000). As such – when comparing the two programs, the actual number of status credits earned is irrelevant.
The important factors are Ticket Price and Status Earning Power.
Status Earning Power is the percentage of elite status an individual flight in any given fare class will move you towards a status tier.
For example:
Sydney to Melbourne on Qantas in deep discount economy earns 10 status credits. Qantas Gold status requires 700 status credits, so we calculate Status Earning Power like this:
10 / 700 = 0.0142, which means 10 status credits represents 1.42% of the total qualification requirement toward Gold.
Before Jan 30, 2017, Velocity will earn the same 10 status credits in deep discount economy for the same Sydney to Melbourne flight. However, since Velocity Gold only requires 500 status credits to achieve, the Status Earning Power is much greater.
10 / 500 = 0.02, which is 2% of the total qualification requirement toward Gold. This calculation represents an adjusted Status Earning Power rate which is 40.8% greater than Qantas.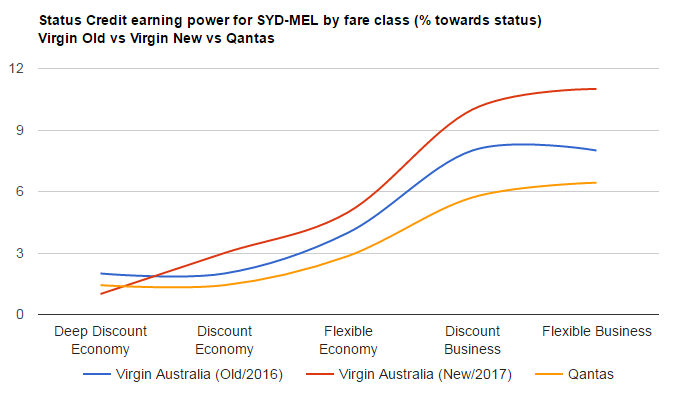 An example of Sydney to Melbourne Status Earning Power by fare class.
How does each fare class change under the new Velocity earning table?
Deep Discount Economy
Most deep discount economy fares will now have less Status Earning Power. The spread of new earn varies from -30% right up to +4.9% more than equivalent Qantas fares. Some fare buckets will still receive a greater percentage towards status under the Velocity program than with Qantas for similar ticket types.
Flights over 1,500 miles will earn 4.9% higher Status Earning Power under Velocity than under Qantas.
The hardest hit is short-haul flights under 750 miles which will generate 30% less Status Earning Power than equivalent Qantas deep discount economy tickets.
Discount Economy
The new Velocity changes shine in this segment since Qantas does not have a mid-range economy status earning level. As such, all flights in this equivalent fare class will net between 86% and 109% more Status Earning Power than with Qantas.
Flexible Economy
Virgin Australia tickets will earn between 39-74% more power towards status levels on flexible economy tickets than Qantas.
Discount Business
40-75% more than Qantas on discount business class tickets.
Flexible Business
40-71% more than Qantas on fully flexible business class tickets.
Cost to attain elite status
On average, Virgin Australia fares are 11.6% lower than Qantas¹ on the same route in all cabin classes. When factoring in the lower cost per status credit earning, this translates into Virgin Gold status being on average $2,011 cheaper to obtain than the Qantas equivalent status level².
See results for yourself.
Use the Australian domestic flight calculator to look up domestic points and status credit earning on Virgin Australia and Qantas.
¹ flyora flight analytics 2016
² Averaging every available sector in every cabin class . flyora Australia domestic FFP comparison 2016