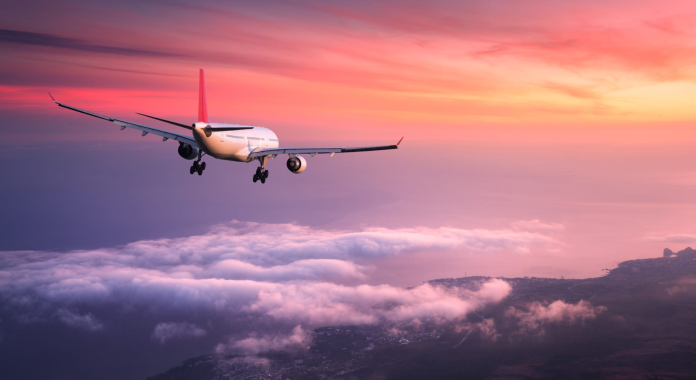 The Aviation Festival Asia is hosting a series of leadership interviews with experts in their respective fields to discuss key airline challenges, insights and themes to aid the industry in a healthy recovery.
Joining the Aviation Festival Asia Loyalty webinar are two of Asia's top airline loyalty experts, Nik Laming and Mark Ross-Smith.
The key themes discussed on the 1st Aviation Festival Asia Loyalty Discussion were:
Breakage modelling and loyalty redemption forecasting
Elite status extension management and thought process
Generating fast cash for airlines and their loyalty programs
Tips for loyalty programs to navigate their way out of the crisis
Brand management and how to communicate with members
In the 60-minute session, both Nik and Mark presented brand-new loyalty material to assist the industry in navigating challenging times.
Mark's PDF presentation is available for download here.
Nik's PDF presentation is available for download here.
The panel couldn't answer all the questions submitted during the Q&A, and as such, below are additional questions from the group which were not answered in the live recording.
Thank you to everyone who attended and for submitting your questions.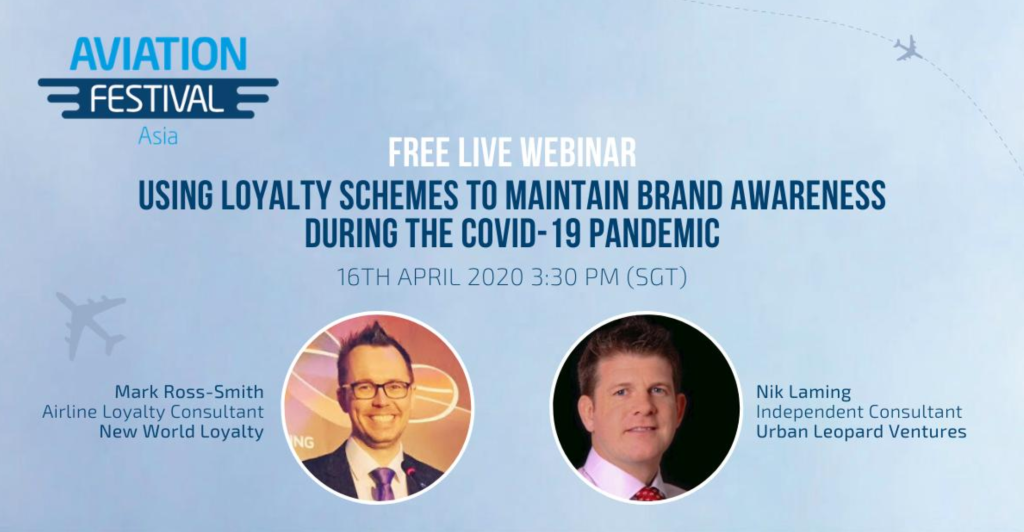 The live webinar event was held on 16 April 2020.  You can view the full recording of the event on the Aviation Festival Asia website.
---
Since 2020 is looked at as a write-off year for flight activity, would it make sense to exclude 2020 from all data models around member engagement, spend, propensity etc. and baseline the models as of 2019 and subsequently add the increments that will come in 2021.
Nik Laming:  A caveat, I am not a data analyst so only know enough to be dangerous and cause headaches for the decision sciences team. But I believe the fallow months will need to be excluded from the models to prevent unwanted outcomes.  However, many of the principles will remain, and more sophisticated tools will be able to filter these months with zero values as outliers automatically.  I expect win-back campaigns to commence first as effectively every member has lapsed albeit involuntarily and the model is still valid but with tailored messaging. Time for a Loyalty reboot?
We may need to prorate targets for the missing six months of 2020 or work with monthly averages to correct status calculations (if indeed any are not extended or waived for the year) and do the same for other models that may rely on longer-term data. Models based on the last 3-6 months of data will need to be restarted following some time to enable new data to build up.  Measuring member value – KPI's and financial performance will be based on actuals with a major footnote explaining the poor performance for future years when all this is forgotten.  Finally, I am sure financial models, and business cases will have to be rebuilt to help drive redemption strategy after learning what happens if you switch off all air redemption.
Mark Ross-Smith: I think you need to create new approaches to predicting trends.. let's call them 'downturn forecasting models'.    That way, you can use a combination of 2019 modelling, downturn modelling, and experience within the organisation to navigate these tough times.  I mean – unless you have a team of clairvoyants inside the airline (not a bad idea eh?),  no model is ever going to be 100% accurate, let alone one with a high degree of accuracy when the data we have now has never been seen before in the history of aviation.
With that in mind – there are no right or wrong answers – we're all going through these times together. There's no playbook. Although, I would be looking outside of the airline business to experts to assist with forecast modelling. Len Llaguno published an insightful report on loyalty program financial management in this article.
Could a consolidation or merge of FFPs be considered as a strategic option in the post-COVID19 era? (e.g. Virgin Atlantic's FFP merging into Delta's FFP SkyMiles or Air France/KLM's FFP FlyingBlue)
Nik Laming: Merging loyalty programs would only happen to follow a merger of the mother airlines.  For example, Air France and KLM forming Flying Blue.   However, many programs are already interoperable for earn, burn and status through alliances or bi-lateral agreements but are financially and operationally independently.  This gives each program the benefit of scale and an improved customer value proposition but without losing control or the asset value.
The programs still serve and deliver revenues for the mother airline and they contribute to the overall mother airline valuation.  Relinquishing ownership of a large stake of the loyalty program to any organisation let alone another airline is very unlikely as the trend is total control by the mother airline.  If both mother airlines continue to fly then which one would have the controlling stake and how would governance work?  One exception could be in the event of an airline going bust where another carrier has a small operation in that market and wishes to supercharge it by acquiring some assets from the failed carrier which could include the loyalty program for its database.  But this would not be a merger of the program's but rather a takeover.
Mark Ross-Smith:   Without a doubt, some airlines will take the crisis as an opportunity to deploy their resources into other industries better.  Industry consolidation is inevitable.  Along with the consolidation will come loyalty programs.  Merging loyalty programs of two major airlines will be challenging, and comes with risks – such as alienating large segments of the audience, as we've seen with SPG and Marriott Rewards merging into Marriot Bonvoy.    However, after consolidation, the industry will come out stronger than ever before – which ultimately will be a positive aspect for members.
Should airline induce members to buy miles at discounted rates during these difficult times? What will impact on the liability in the long run?
Nik Laming:  Sale of miles at discounted rates to members would be attractive to airlines as it generates cash and could serve to increase redemption revenue burning down liability.  It is the same concept as pre-selling to the banks, which is a good way for airlines to generate cash.  However, the balancing factors are the level of discount required to make the miles attractive for members and how much confidence does the member have that they will ever be able to use their purchased miles.  As soon as flying begins again, I believe we will see discounting and incentives for top-up and sale of miles to customers as then there will be more confidence that the airline will survive and the purchased points can be used.
This activity will stimulate some burndown of liability but earn on credit cards with no burn options available for the period of the lockdown will mean much larger liabilities (and cash balances) for loyalty programs.  These cash balances need to be ring-fenced to be used for future redemption as much as possible.  I believe higher fares and excess capacity could drive a spike in air redemption once flying starts again which in the long term will balance out the liabilities to similar levels to before the crisis.
Mark Ross-Smith: Selling miles directly to members – American Airlines recently launched their new buy miles campaign, and was met with criticism from members.  Points launched a report stating how loyalty programs can drive incremental revenue through of miles (noting that points does not power American Airlines).  If your loyalty program has a host airline which is on shaky financial footing – members may not buy into the miles for fear that their miles may be worthless.
Selling miles to banks at discount rates – in my view is the very last resort for an airline.  Since the airline would effectively need to provide a 20%++ discount on the standard rates, it's similar to a loan at 20% interest over the term. That's an expensive loan given that interest rates are almost zero in many countries, and access to liquidity is readily available – especially for airlines who have a strong history of good financial management.
One has to wonder how much of a discount, and security Hilton provided to Amex for $1B prepayment in points.
Will members return to fly faster than who are not members?
Nik Laming:  Yes.  The majority of most programs are frequent travellers as they stand the most to gain from the loyalty program.  As frequent fliers before the crisis they are likely to return to be frequent fliers after the crisis and therefore most likely to start flying again soon.  Company travel policies and restrictions may disrupt this theory because many frequent travellers are on business, so travel may be delayed by lingering company restrictions.
For leisure travel there are more data and incentives available to marketers for members of the program meaning if the airline has a good analytics and campaign management set up it will be able to segment the base and deliver the right offers to the right segment at the right time to encourage a faster return to travel.  In the immediate future, I expect high fares which will make redemption of miles for a flight relatively more attractive, removing another barrier from loyalty members flying, which is not an option for non-members.  And finally, loyalty program members naturally have a higher affinity for the brand and level of trust provided the relationship has been managed well during the crisis. Hence, they are again more likely to return to flying sooner.
Mark Ross-Smith: If we can learn anything from commercial aviation crisis in history, it's that elite members will be THE CUSTOMERS who get back in planes faster than non-elite members.   Elite members – especially those in the mid-tier ranks, are highly influenceable through loyalty marketing campaigns.  5x bonus elite miles on new flight bookings? Sign me up!  A member who is driven by elite status will fully embrace good loyalty offers.
Without a doubt, loyalty members will embrace flying before non-loyalty members.  Also, keep in mind that loyalty members can mean flyers from partner airlines and other alliance member airlines. Don't limit the outlook to your own FFP base – although that's certainly the place to start.
What do you see is the first step for Loyalty Programmes in the bounce-back from COVID-19
Nik Laming: Use the data to:
Target communications encouraging the right members to start flying again with maximum cash yields.
Tailor communications to members to reassure them, make the right offers and rekindle the desire to travel
Drive members to use partners to drive cash in
Target redemption promotions at price-sensitive groups to get them flying again
Fix the redemption pricing to ensure maximum perceived value from flight redemption to reduce cash out
Mark Ross-Smith: The bounce-back playbook for loyalty looks like this:
Spend the time now preparing for multiple case scenarios on when network demand will increase (i.e.: when countries begin relaxing quarantine).
Plan 3-4 campaign scenarios and get ready to pull the trigger when the time is right.
For an airline that haven't extended elite status… I would wait… see how the other airlines respond, then choose the best, and beat their deals.  Come out looking like a winner – your members will enjoy the bragging rights to their friends and colleagues about how 'their' airline did more for them than others did.
Work on a daily basis with network, pricing and revenue management teams. Now is the time to combine your powers and be prepared to act as one team when demand increases.
Create marketing campaigns to attract competing airlines top-tier loyalty members.  A simple status match won't cut it.  Dig deeper – get creative.  Think about the scenario where your airline launches a route, and it's the only airline flying between those city pairs. You'll have a monopoly, and likely other airlines top-tier members will be trying your airline for the first time.  Capitalize on this and don't lose the chance to win their business.
Lastly – I'd recommend to pull in as many external resources as possible.  Many consulting agencies are working for free right now.  Use their time, take their advice, and your airline loyalty program be in the best possible position to emerge from the crisis.
The full presentation can be viewed online here (free registration required).