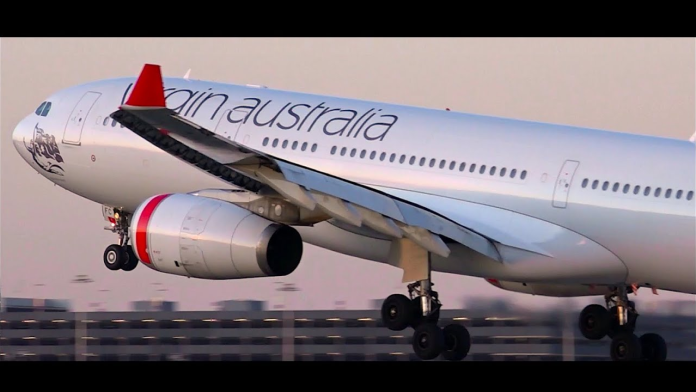 Did Velocity really double in value over 5 years and is it worth AUD $2bn?
Virgin Australia announced its intention to buy back its 35% stake in Velocity for AUD $700M. Read the full ASX release here.
In 2014, Virgin Australia Holdings Limited (VHA) sold a 35% stake in Velocity to Affinity Partners for $336M, valuing the business at close to $1B.
Fast-forward to 2019, and in what might be a world first – the airline wants to take back it's the share of the loyalty business.  Or does it…?
What drivers are behind the move to buy back the shares?
Let's explore a few options…
| | |
| --- | --- |
| Value in 2014 | Value in 2019 |
| AUD $1.0bn | AUD $2.0b |
100% valuation growth increase in five years.
The growth numbers seen over the five year period are phenomenal [for an airline], and to understand the underlying metrics in growth, we need to first look at the business drivers for Velocity.
Typically, airline loyalty programs are measured by:
The sale of points/miles to partners.

The deferred revenue that is realised under accounting standards (members redeeming miles).
Note, that internal metrics of airline loyalty programs are different from those in financial reporting.  Share of Wallet and other important metrics are used by most airline programs as part of everyday tracking.
Velocity sale of points to partners over the last five year period is as follows:
| | | | | | |
| --- | --- | --- | --- | --- | --- |
| | 2014 | 2015 | 2016 | 2017 | 2018 |
| Revenue (recognised) | N/A | $238m | $328m | $371m* | $372m* |
| Revenue (deferred) | $243m | $285m | $336m | $413m | $465m |
| Profit Allocated to Equity Partner | 0 | $17.8m | $41.9m | $38.2m | $47.1m |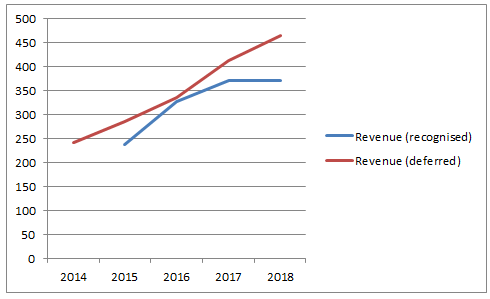 Over the 2014-2019 time period, the sale of points has grown as is evident by the jump in deferred revenue. New membership numbers continue to trend upward to feed new customers into the program, which underpins deferred revenue growth. Do these numbers support a $2bn valuation?
The average (recognised) value per Velocity member is the lowest since 2015, at AUD $41 per member, per year.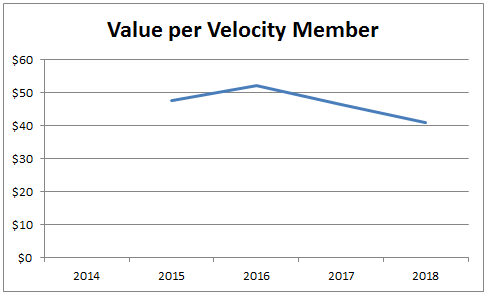 The overall enterprise value per member has increased from AUD $200 up to AUD $219 per member.  That is, the value per member when calculated against the total member base versus the AUD $2bn valuation.
Important Considerations
In the years 2017 and 2018 as per *asterisk above these include inter-segment revenue (ie. with the main airline business of Virgin) of $66m and $55m reducing these to 2017 of $305m and 2018 of $317m.  The real numbers then show a decline or no growth in revenue. Unearned revenue still grew to double in the period however this all goes to future points value and is profit when the points get redeemed.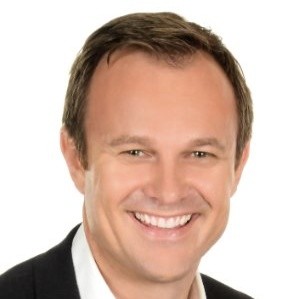 It's interesting to note that Affinity has received $140m of their $335m investment back already in profit distributions (2019 not available yet).  I spoke with Loyalty Finance expert, Stuart Dinnis who pointed me to the Airline Financial Statements indicating that these profit distributions were tax-effective due to the Airline's continued losses and "TCG" (Tax Consolidated Group) which includes Velocity.  Does this then boost the valuation by 30%? 
The deal value of $700M will value the Velocity loyalty program at $2bn which is higher than the entire VHA group itself.  On the Australian Stock Exchange 'VAH' stock code today has a market cap of $1.4bn.  
Digging deeper… Let's explore a few concepts:
Overpricing
What could VHA gain from overpricing the 35% share in Velocity?
Increased ASX market cap

The fast transition of VHA to an investment-grade business (thus being able to access new funding sources and a host of other benefits)
Velocity Options:  IPO or Buy-Back
Would an IPO have forced Velocity into additional transparency, which Qantas Loyalty and other competitors could use as leverage?

Increased transparency and reporting obligations to ASX may not be what Velocity wants, especially when the ACCC is investigating Loyalty 'Schemes'.

Perhaps Velocity wanted to prevent an IPO, and $700M was the price Affinity was demanding.
Loyalty Finance expert, Stuart Dinnis noted that "It seems that VAH doesn't have the cash or funding structure to buyback at this point, so maybe its Affinity setting the buyback and valuation and not VA".
The value to VHA has to exceed $700M to justify a buy-back
What is the true value of Velocity to VHA? ie:  non-financial metrics

Could the loyalty business double in value again by 2024 to justify the cash outlay?
Ultimately the buy-back from Virgin Australia sends strong signals to the market, the aviation business and other airline loyalty programs.
Short term cash from selling a chunk of the loyalty program may be expensive down the road.

The loyalty business is worth more under full control of the airline.

Loyalty and the airline need to work together and feed off of each others success.
But the most burning question on my mind is…
Does the buy-back signal the beginning of re-privatizing Virgin Australia?