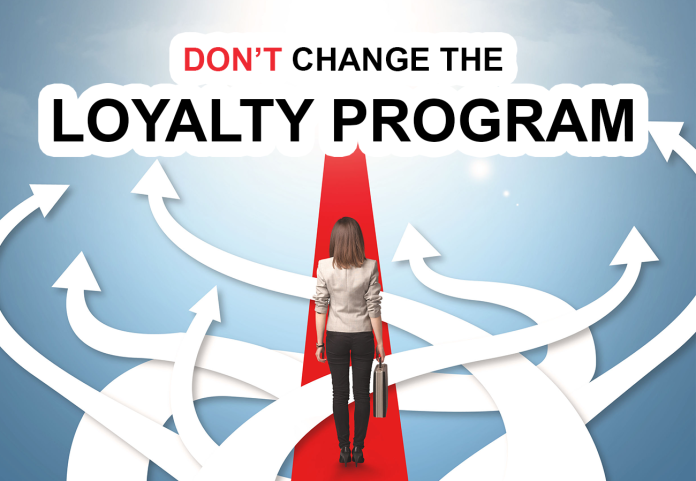 Why are frequent flyer programs constantly changing?
Before we get to the nitty-gritty of frequent flyer programs logic, consider the following scenarios:
You pay full price business and first class tickets.
After buying that ticket, you meticulously spend 15-minutes scouring through the aircraft seat map to ensure you have the best possible seat allocation.
Queuing at the airport check-in desk that has an unusually long line, realising that every passing minute is less champagne you can enjoy in the lounge.
Not receiving your meal of choice in business class because the airline ran out of your prefered choice
Queuing up at boarding behind 200 other passengers because the priority boarding lane doesn't exist.
The heart-sinking feeling as you receive a Gold card in the mail, and realise your old Platinum card is no longer valid.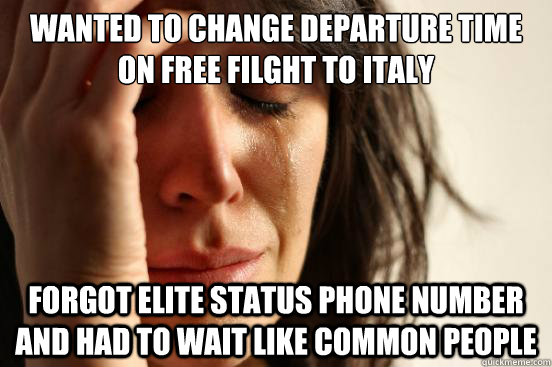 Sitting next to a crying infant on a 12-hour flight in a middle seat in economy class at the back of the plane because the airline had swapped aircraft and your pre-assigned exit row seat no longer existed on the new aircrafts seat map.
Sending multiple emails to the airline to get miles credited to your account, because the airline thinks you didn't board the flight.
Being denied entry to the airline lounge, and inevitably having the walk of shame past other passengers who have lined up behind you to enter the lounge.
Showing check-in staff the benefits of your Diamond status because they don't want to put a Priority tag on your bag.
These occurrences are common for the most valuable frequent flyers of airlines.
And yet, the least valuable passengers for airlines don't experience these problems.
There is proof that negatively changing frequent flyer programs have a very real financial impact
American Airlines lowered revenue guidance in 2017 by $20M due to lower than expected co-brand uptake. That was a direct result of FFP changes according to a report by David Feldman.
South African Airways is bankrupt – one of the first premium carriers to change to revenue based earn and burn.
Malaysia Airlines changed to full revenue based in 2017, and the Malaysian Government is considering closing down the airline.
Lowering the miles earn rates for members is driving premium passengers to low-cost airlines.
Cathay Pacific changed earning to their Marco Polo loyalty, had a problem with elite member churn and then recorded major losses.
Who's making the rules?!
Why do airlines make these types of decisions, and why do airlines put up roadblocks which appear designed to antagonize loyal customers?
The sobering conclusion I've come to is that the majority of airline employees have never been a frequent flyer in their life.
Additionally, most airline employees have never even purchased a full-fare business or first class ticket.
We can't blame airline employees for these shortcomings though.
Consider what the typical airline employee goes through when booking a ticket and taking the flight.
1. Log onto an easy to use staff portal, pick exact flight they want (all flights are the same price). Press confirm, done.
2. All flights are the same price, with discounted prices up to 100% off.
3. Employee turns up to the airport at a staff check-in counter that has a very short queue.
4. Boarding passes can often be issued last minute, meaning the employee has no time to use airport facilities, airline lounges, or see the horrendously long lines waiting to board the aircraft.
5. On the aircraft, employees will either be treated exceptionally well by other airline crew or receive de-prioritization and receive their meals last.
Most airline staff don't earn miles and the majority of airlines don't allow employees to enjoy the benefits of the loyalty program.
This scenario is almost the exact opposite experience that a high-value loyalty member would go through, and further highlights the disconnect between the experience of staff travel and the expectations of premium airline passengers.
The Airline and Passenger Disconnect
The disconnection between airline employees experience and the frequent flyer experience is so much, that many airline employees have no idea what premium passengers go through and experience at the airport or inflight.
This leads to a common occurrence — where the frequent flyers know ticketing rules, loyalty benefits and airline access policies better than the airline staff (whose job it is to know this stuff).

Airlines currently attempt to close the experience gap using:
Outdated Surveys

Many airline surveys (eg: post-flight feedback), have the same dull line of questioning and almost always end with an NPS question that is probably linked to that business units KPIs.
Questions such as "Based on your recent flight, how would you rate the IFE content?" Generally, these questions have only a few selectable responses. There is no way to respond with "My screen didn't work". So, by default, the passenger gives a "Poor" rating, which is not accurate and doesn't help the business unit.

Annoying focus groups

Let's start with the bribe inducement being offered the member to turn up the focus group. Without the inducement, the member might not turn up in the first place, and even a decent group show up – who are these people? I can 100% assure you that busy CEOs and high-net-worth individuals have zero time for a focus group.
Casual networking/drinks with selected individuals can be a good idea. Be mindful that this can lead to a superiority complex by the member, where the feedback needs to be interpreted into airline logic.

Inaccurate, and often bias feedback forms

"Hello Sir and thank you for flying with us this evening. You've been 'randomly' selected by the airline to help us recognise outstanding cabin crew service. Please fill out this card and return it to me. "Or the classic "Thank you for flying XXXXXXX, please take a few moments to fill in the survey" which appears on the IFE screen.
These responses do collect more feedback and are great for mass market measurement. Ultimately the answers are recording a specific moment in time. The ouput of these surveys can be linked to the state of mind the passenger is in at the time.

Forums and secret social media groups

Flyertalk and other airline forums are a great resource for airline employees to learn what's happening in their airline from a member perspective. One needs to keep in mind that these members are often outliers and not reflective of most passengers. However, the underlying thought process can be reflective of most passengers. Flyertalk data accurately predicted how Cathay Pacific would lose elite loyalty members in 2016.

Attending frequent flyer events

Recently I've seen more and more airline executives turn up to frequent flyer related events (such as Frequent Traveller University). These events are wonderful for airline members so they can suck up to an airline executive. As an airline executive, you probably won't learn much, but it will create good-will for the members who are attending and want to hear you speak.
How could airlines better close the gap?
Mandatory training for or all employees (even for the CEO) on how loyalty programs contribute to the overall airline success. Considering that frequent flyer programs can be worth more than the airline itself and that airline loyalty attributable revenue can be responsible for over 43% of total ticket sales like at Air China, it could mean that loyalty is the single most important part of the airline.
An employment

requirement that senior hires must have (legitimately) earned elite status in recent history. 

You wouldn't hire a doctor who didn't go to medical school, so why hire someone into the loyalty team who has no experience in being a frequent flyer?
Talk to passengers one at a time. It's surprising what comes out when you spend time talking with passengers 1-on-1 in their environment. But more importantly, it provides a genuine open channel for two-way communication and real human connection.
Launch a staff frequent flyer program. It will need to look and feel different from a normal frequent flyer program. Instead of earning miles when flying – perhaps it reduced status earning. Allow staff to fully utilize FFP benefits if they hold elite status with the airline or in the alliance. Accelerated miles earning for staff who spend on the airline co-brand credit card. Do a deal with the issuing bank so that all airline employees are automatically approved for the co-brand credit card (and charge the bank for the deal! — see my commercializing loyalty programs for more tips)
Airline employees who have been frequent flyers themselves have a deeper understanding than their peers.
There's no certification or University degree in airline loyalty, but the closest thing which comes to it is being a frequent flyer.
Why does the airline industry need more staff who have frequent flyer experience?
You're probably thinking, hey, why does my finance manager need this type of experience? How would it help my marketing team?
My experience over the past 20 years is that loyalty programs are almost always devalued for the members.  Some programs have made massive improvements, such as the Virgin Australia Velocity program relaunch in 2011.
When the airline staff are more invested in the program, when they're feeling the pain on a regular basis – they're more likely to take action.
Mark Zuckerburg famously forced Facebook employees to use the Android App – because it was so bad. Outcome? The Android app is now superior to the Apple version. Considering most of the world use Android phones – this was a positive move for the majority of Facebook users.
By requiring all senior management in the airline to have frequent flyer experience, it unlocks a new potential within each individual to think more broadly. This creative expansion can help in contract negotiations, partner meetings, marketing discussions and in board presentations.
Instead of living inside the airline bubble – when the decision making process is happening, a piece of the employees logic will be "but wait, what if ……..", and undoubtedly, the outcomes will be better than if employees did not have frequent flyer experience.
Frequent flyers have been crying out for years about these issues.
Maybe once airlines get onboard with taking loyalty more seriously, we will begin to see frequent flyer programs that begin to add value back to the members while increasing profitability at the same time.
I've been there and done it. It's possible to improve frequent flyer programs AND add genuine value to frequent flyers at the same time.
Perhaps it's about time airline management took loyalty seriously?