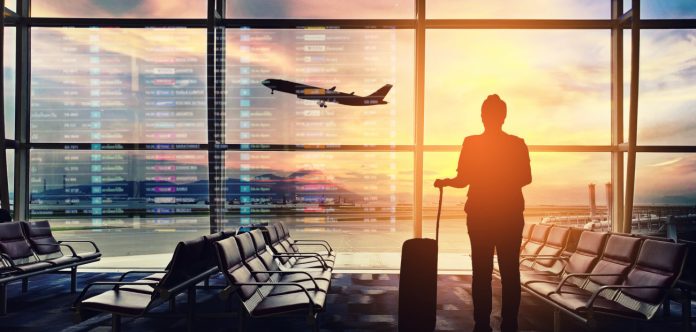 Some of the brightest people in the travel sector have hung up their boots and are beginning new careers in other industries – and good for them. It can take real courage to shift industries. [side note: A great story on Qantas pilots becoming bus drivers here]
These same travel companies are lining up for Government handouts.
…frankly, too many airlines to list in this article. But you get the idea!
There's no denying that airlines need major financial assistance from Governments. Do they deserve the handouts? Some – probably yes. Some – probably not.
Let's put the core airline business of flying metal tubes (pax/cargo) around the world aside and look at the next most valuable part of most airline businesses.
THE LOYALTY PROGRAM, aka 'Customer Commercialization'
Why the heck are airlines and hotels letting go of senior loyalty staff – when loyalty programs, are (or should be) in most cases – a primary profit center?
Why does it seem like, for most loyalty programs, it's a case of – sitting back, playing dead and waiting for a hit of Government money or for airline demand to magically switch on overnight?
This year, more than ever before in history – airline loyalty programs have been thrust into the spotlight due to the type of revenue they're generating.
A quick refresher: Loyalty Programs can be worth more than the entire airline group.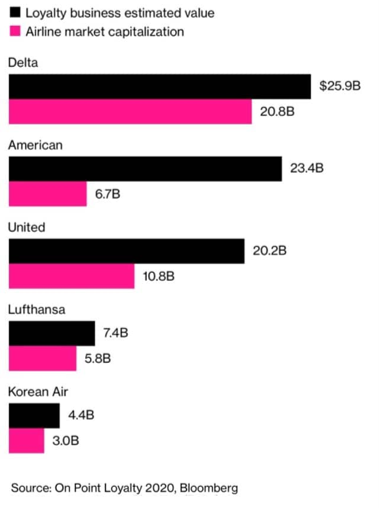 In previous articles, I've talked about how loyalty is a C-level role, how American Airlines is only profitable because of its loyalty program, how airline programs make billions, how to generate revenue from data, how to … does anyone even read my articles? WAKE UP, PEOPLE!!!!!!!
I italicised the words type of revenue, because while these programs are valued on their future cash earnings – this revenue is sustainable, high margin & more resilient to market conditions, unlike airline ticket sales, which are not. This is why airlines are valued by the market differently, than other types of companies. Stifel analyst Joe DeNardi has long stated that airline stocks were undervalued because the loyalty marketing revenue component wasn't accurately valued.
Let's spell it out in English.
$1 of profit in a tech company is worth on average 32x profits to earnings
$1 of profit in an airline is worth around 5.8x profits to earnings.
The Loyalty Co is valued at 5x higher rate based on profits than an airline could ever dream about. The more profit from sustainable types of revenue in Loyalty Co, the better it can leverage that valuation — to help the airline.
The days of Loyalty programs being boxed in by the airline as a 'perks & benefits' division of the airline — are long gone folks.
While traditional thinking by industry folks is that Loyalty revenue is made up predominately of co-brand cashflow from banks – it's the type of revenue that's important and not the product it's derived from.
There are pockets of other high-margin revenue that Loyalty programs can tap into, or productize themselves outside of the credit card business.
That all leads to the most obvious question — WHY ARE MOST AIRLINES, DOING ALMOST NOTHING TO INCREASE THE VALUE OF THE LOYALTY PROGRAM, WHEN IT'S CLEARLY THE MOST VALUABLE ASSET???
The Business of Loyalty
If I were CEO of an Airline Loyalty Program – here's what I would do to bring in new cash and grow the enterprise value of the Co.
Ignore the airline. Airlines say they're 'breaking down the silos', but never do. It's time to double down on being a silo and be damn good at it.
Loyalty Co is now a tech startup, a fully-owned subsidiary of the airline, and the board needs to provide a free pass to Loyalty Co to save the day. Politics got airlines into this mess, and the last thing the Loyalty Co (aka: tech startup) needs is red tape.
Focus on building new revenue streams, new products and driving up the enterprise value. Remember, profits in Loyalty Co are valued 5x higher than profits inside an airline co structure.
Warp Speed Value Creation — High Growth Loyalty
New Products
The goal of creating new products is that these will attract new members into the program that may have previously never considered it. It's not about 'new signups', but rather 'customer acquisition'. Remember, this is a technology monetization business. We need more customers and need them to engage in their own way with the airline Loyalty brand.
Create multiple new tiers within the existing program, needed for many reasons, and an easy revenue generator without needing pax to fly.
Create non-air benefits for elite members, on-ground relevance is a must to maintain points currency value.
Create new co-brands (not credit cards) in strategic markets with a different look and feel to the standard cobrand model. Issuers and card schemes will pay for the rollout and then some.
New Revenue Streams
Licencing the airline/loyalty brand name to third parties, a proven model on multiple continents.
Run world-leading status match campaigns, with world status match leaders at Loyalty Data Co.
Web/app media space sold to third parties, easily done with the right partner
Sell Miles, duh
Many, many other new revenue streams that could easily be rolled out quickly.
Member Monetization
Turn on elite status earning from co-brand card spend, keep member buy-in active for the future.
Turn on elite status earning from miles/points transfers, convert bank-issued cards into airline customers.
Member get member affiliate program, an easy win.
Third-party sale of member insights data. 20 bucks per member, per year in data monetization is my benchmark.
Acquire New Businesses / Acquihire
Could the acquisition target increase profitability by 30%+ after being acquired by the airline loyalty co?
Could the potential acquisition target be a customer of the airline Loyalty Co? How much value can be created?
B2B
Mass partnership onboarding without the long sales cycle process. Leverage payment networks.
Support retail & e-commerce in new ways that help everyone, go where the growth is…
..and I'm just getting warmed up.
My point is — the Loyalty Co does not need bums on seats to create new, revenue-generating products. The Loyalty Co managers need to think more like a technology start-up, and less like an airline.
The Loyalty Co DOES NOT need Government bailouts.
The Loyalty Co DOES NOT need to go down with the rest of the sinking ship.
Kick the Loyalty team overboard, give them a lifeboat and a pile of cash and watch them come back in a few months with a rescue boat, food for the crew, and enough tools to repair the mothership.
What the Loyalty Co needs — is a leader that can turn an 'airline' thinking into 'technology' thinking. A bridge between the two worlds of tech and airline, to cherry-pick the best of both, and focus the benefits into a world-leading Loyalty Tech Co.
Last month I predicted an airline would be run a tech CEO in 2021. The first step towards this is leveraging the awesome minds in the tech business to turbo-charge the Loyalty Co value beyond what traditional airline thinking can achieve.
It's time for airline management, and Loyalty teams to get off their knees, to stand up – and to show the world that 'technology marketing companies', can help save the airline industry.
When Loyalty programs up to their game – we'll see all sorts of amazing new innovations and opportunities spring to life.
But until then – airlines continue to bleed.