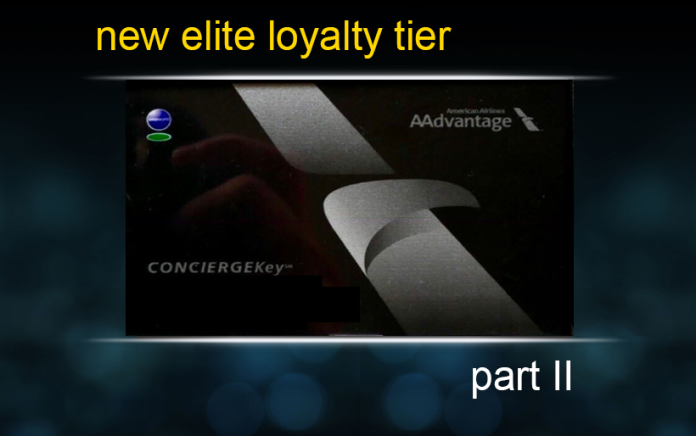 Creating a new airline loyalty status tier – part two
In the previous paper, creating a new airline loyalty status tier – part one, we looked at loyalty member behaviour challenges and how a new elite tier would be viewed from both the program and member perspective.
This article picks up where part one left, and digs deep into the considerations an airline loyalty program must review to determine if a new tier is right for them, and what other financial and non-financial impacts may be.
The new tier is driven by the program or another factor?
Often, a new tier is not driven by the loyalty program itself, but rather out of necessity in the market, competitive challenges, or alliance requirements.
Depending on the reasons for introducing a new tier, the approach to developing the tier benefits, qualification requirements and the branding of the tier will need adjusting.
New Status Tiers:  Data + Art
Given the massive data sets most loyalty programs hold on their members, including transactional data, emotional/persona data and inferred data – it's clear that a purely data-driven approach to creating a new loyalty tier WILL NOT WORK.  Just the same as using a pure emotional/gut feeling approach isn't the best idea.
Therefore, the best approach to correctly creating a new loyalty status tier is part data science and part art.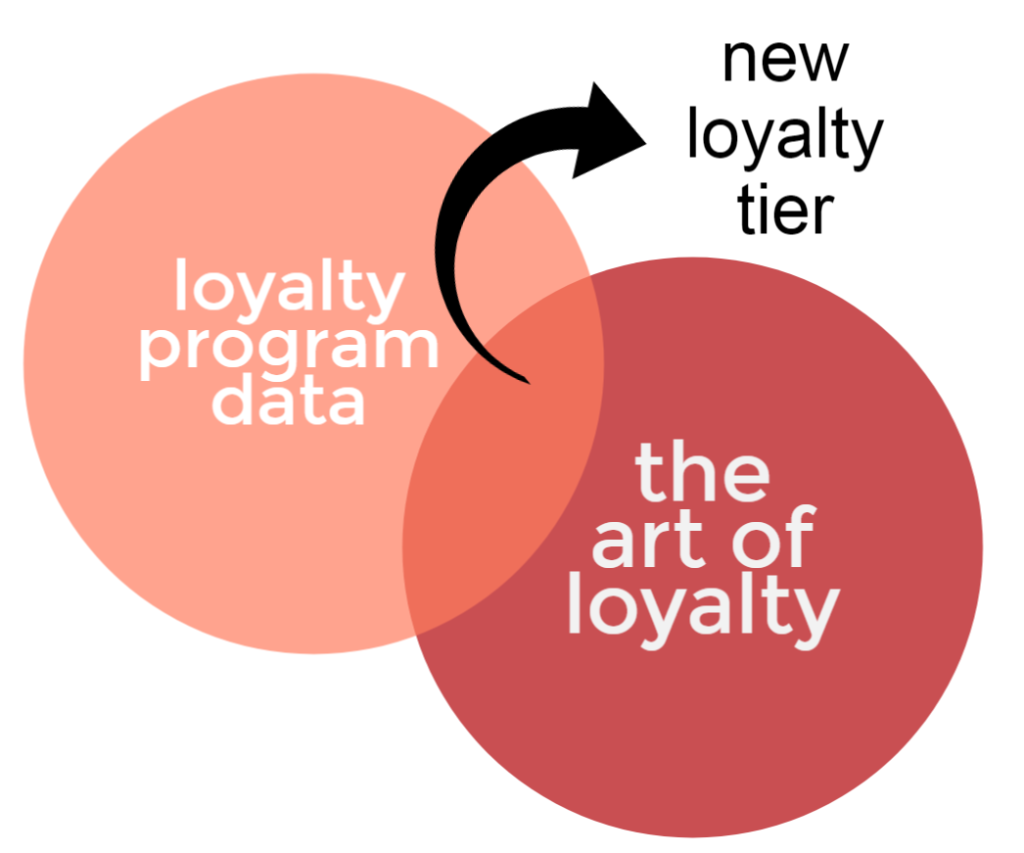 The Data
There are many data features and analytics to assess, and the list goes beyond what is covered in this article.  Many popular data points to pay close attention to include:
Revenue Protection
Is there customer attrition or churn problem in certain segments of the loyalty member base?  Are the ultra-top customers splitting their business between your airline and a competing airline?  Creating a new loyalty tier at the very top end is a fantastic way to help protect the revenue of valuable members.
Spend-Up
How many members will be just shy of the new loyalty tier qualification requirements (and this is the key piece) – that have the ability to spend-up and transact more with the loyalty program in order to unlock the higher status tier.  Don't simply assume that because there are 1,000 potential members who are within 10% of the new tier threshold, that  25% of those will spend-up to qualify.  Knowing how many in this group have means and ability to spend-up will provide an accurate reflection.
Also, don't be confused with members that were going to achieve that new loyalty tier, or hit a specific spend without having the new tier in place.  If the new tier isn't driving new revenue that otherwise would never have existed without that tier being created – you can't count that revenue as incremental or attributable to the creation of the new tier.
Suppression of Revenue
The opposite of spend-up.  This is when the new tier qualification requirements are so far out of reach with the majority of the member base, that the goal/dream of ever reaching that tier is near impossible.  Qantas has been met with criticism that their new lifetime platinum tier is so far disconnected from the expectations of members, that it's actually driving away revenue, instead of attracting new revenue.
Another way to consider this point is what I call the Lamborgini effect.  Most people will never own a Lamborghini, and therefore, they don't even bother saving for one, and instead, they settle for something much less than they might otherwise be able to afford if they tried even a little bit more.
Mass Takeup
Used as a commercial driver to add strength to the loyalty program, while making other players in the market look weak. Setting the qualification criteria at an otherwise lower level than is expected will add additional pressure on market competition to respond.  This deliberate action is often used to quickly grow market share when the incumbent players will not be able to adjust their loyalty program.   Many airlines that operate in major alliances (Oneworld, Star Alliance, Skyteam) are particularly susceptible to this as their program changes can require approval from other alliance members who may not share the same loyalty goals.
Segment Attraction
For loyalty programs looking to attract corporate customers, data intelligence tools such as prism or card scheme and bank intelligence data give insight to where there is potential room for revenue growth within the network.   If the airline is launching a new route or upguaging aircraft on particular routes, it can make sense to adjust the loyalty program proposition to capture more revenue from the corporate which may now find new value in the airline's network growth.
Network and Alliances
Joining a major airline alliance like Oneworld, Star Alliance or Skyteam can have massive impacts on the loyalty program success.  If there is strong regional competition, setting the new loyalty tier qualification requirements in accordance with your competitor's data can pull new revenue that would otherwise be impossible without being in a major alliance.
The Art
Loyalty programs are emotional for members.
With that in mind, the program needs to also align and serve the overall business goals.
The balance between these two is, The Art.
Important considerations:
Management buy-in to new thresholds

Typically, the management view through the lens of cost versus upside potential. If the qualification levels will resonate with the intended member segment while providing value to the business – it's likely to win over management.

Influential & Government

Many loyalty programs will have highly influential political and government members. If thresholds feel too-high for these members, it could result in unexpected impacts on other areas of the business.  Keeping key figures happy, while unfortunate – is part of the game.

Member sentiment

The new tier levels need to pass the 'average joe member' test.  That is, you invite 50 random members to hear about the new loyalty tier and ask them if they will do what it takes to achieve the new tier. If the majority say no – the rest of the member base may feel the same way.  Check out the sentiment analysis that proved Cathay Pacific lost millions by incorrectly setting their Marco Polo tiers.
The concept of the new tier and how difficult it is to achieve needs to sit well so that independent media (eg: not your PR machine!) will run positive articles about the new and how it's more rewarding/helping businesses etc.
More upgrades and downgrades – each time a member downgrades a tier, there is a risk of program disengagement.  With more tiers, comes the greater risk of members switching off to the program.

Complexity

Many frequent flyer programs are complicated.  Will adding a new tier be too confusing for the member base?  If the tier is published, does the additional complexity turn away members?  While most programs have 3-4 tiers, some airlines have highly segmented the tier base.  S7 has 8 status tiers.  United Airlines has 5 elite tiers including Global Services.

Cost

A new top-tier will require new benefits above and beyond what existing tiers offer.  What are the costs to fulfil those benefits?  Do they align with alliance compliance requirements?  Members will expect that new-top tier benefits will have value compared to their existing benefits.  If the new benefits are not WOWZERS – it can trigger member disengagement and the program can look cheap.

Airline alliance

Some airline alliances have restrictions on how the new tiers are positioned, expected number of members in that tier, and the effect the new tier will have on other carriers in the alliance.

Implementation

The cost to implement a new tier can be crippling.  Consider the staff training, re-printing of flyers, membership packs, membership cards, airport signage, system and technical upgrades, branding
There are other considerations – this is not a complete list. 
Successful Launches
One of the most publically successful new top status tiers to be introduced is from Virgin Australia.  Phil Gunter, who introduced the current top Platinum tier at Velocity shares "Adding a Velocity Platinum Tier transformed Virgin Australia's ability to attract top Frequent Flyers – the number of Platinum members quadrupled within a year".
With the Virgin Australia Velocity frequent flyer program valued over $1B, it's clear that the introduction of a top-level Platinum tier was key to increasing the value of the loyalty program.
Successfully launching a new top-level status tier can be highly rewarding for airline loyalty programs.  However, it's important to keep in mind the clear risks that may not be apparent at the onset.  It's the loyalty member base that will ultimately embrace or reject the new tier.
Many high-value members live and breathe the airline product and loyalty program.  Getting the tier right or wrong can make or break the economics, so it's critical to ensure that all considerations have been carefully evaluated before launching a new elite status tier.