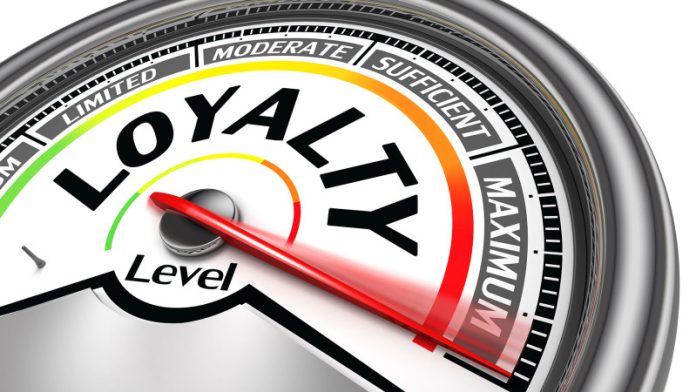 There are indications that the level of interest towards brand loyalty remains increasingly strong.
Do a quick search in Google Trends and interest in the topic of 'customer loyalty' shows signs of steady growth after the 2008 recession.
It comes as no surprise, as macro-economic forces drive customers to seek better value in some of the more considered purchases they make each day.
However there are indications that the market for loyalty scheme membership, is reaching saturation.
How can it be the case that one person can amass 16 loyalty cards, and not redeem any points?
Both halves of that sentence seem a little bonkers to me, but perhaps the way that the marketing industry imagines loyalty to be, isn't solving the problem it's trying to fix.
Before going into detail on whether loyalty schemes work or not, it's worth defining what we mean when we say loyalty.
True loyalty considers two important elements: A positive attitude and repeat patronage towards a brand.
To understand how to create loyalty, we need to understand where it comes from.
In a recent piece of research, it was identified that the drivers of customer loyalty are 'brand likeability', 'delivering on brand promise', 'product quality' and 'ease of use'.
Four in five customers identified these elements as important in driving customer devotion.
A good example of creating customer loyalty through these drivers comes from Nordstrom. The retailer is synonymous with excellent customer service.
The culture of a customer-first approach to loyalty is apparent through the company's DNA – with all staff embodying the three core standards:
Why the service is of value (why we're doing this in the first place).
The emotional response the customer should feel.
The expected method for accomplishing the service in question.
With these three standards in place, employees are empowered to create great customer experience, by any means possible.
This helps achieve some of the main components that drive loyalty – 'quality', 'ease of use', 'likeability' and 'delivering on brand promise'.
Nordstrom is successful because every decision is about encouraging an emotional response from the customer, simply to make them feel good.
This is a key differentiator compared to many of the traditional rewards programs we see today, with their points and discounts providing benefits that are easy to rationalise.
By focusing on the emotional reaction and feeling of the customer Nordstrom makes loyalty a culture, not a route to market.
There is a case for reimagining what loyalty means in categories that are associated with low involvement. Take Insurance as an example.
David Moth's assessment of the Insurance category presented some anecdotal evidence of a category struggling to get to grips with market forces beyond their control, leading to the commoditization of service through price comparison sites and new apps on the market.
In such categories, brands need to consider the value they create, as opposed to the value they offer.
One powerful example of this comes in the form of Oscar, a health insurance provider in the US. Oscar promises its customer hassle free insurance with personalised tariffs.
By issuing out wearable tech Oscar incentivises healthy behaviours and adjusts the insurance premiums it offers to customers based on their behaviours.
Oscar has gained a name for itself by focusing on the implicit drivers that create loyalty.
As highlighted in a recent Econsultancy report, one of the biggest barriers to CX success is a lack of understanding of the customer journey.
To understand what loyalty means, brands need to go back to understanding their customers' needs ("what is most important to me"), motivations ("why is this important"), and finally behaviours ("what am I doing when…").
Again perhaps one of the pitfalls of the way loyalty is imagined in many marketing departments is the lack of psychographic and attitudinal data to augment behavioural data such as customer lifetime value, frequency of purchase, etc.
Don't get me wrong, loyalty schemes have their role and have proven to be effective for some brands.
The problem with brand behaviour around loyalty schemes is that there is often an assumption that 'doing a loyalty' scheme will magically paper the cracks of a poor brand experience.
This, coupled with the idea that many marketing departments attempt to copy-paste the approach of others, leads to market filled with 'me too' propositions.
To do loyalty right requires a customer-first culture that flows through the business, which requires more than a store card.
As people, we are only limited by our own imaginations when we think about loyalty, and perhaps the industry needs to readdress what loyalty means to them.
Originally posted on econsultancy