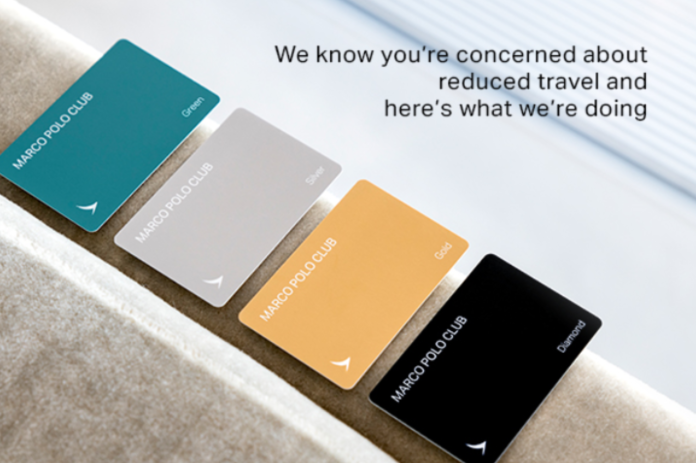 Extend elite status or Not to extend elite status?
That's the million-dollar question circling around the travel loyalty industry lately. The unprecedented grounding of aircraft, significant decline in demand, and empty hotel rooms are forcing management to be creative and discover new ways to generate cash, stimulate demand, and in some cases – survive as a company.
Throughout history, there have been few events which rattled the airline industry such as the recent COVID-19 impact to businesses, trade, and the travelling public.
How loyalty programs tackle the challenges ahead – namely – from a loyalty perspective, how to lock-in demand, stimulate cash-flow, and leverage from the most loyal travellers.
We will explore core differences in both airline and hotel loyalty propositions, and uncover the thought-process behind recent decision making by major travel industry players regarding extending elite status to loyalty members.
Loyalty Programs Extending Elite Status Memberships
Over recent weeks, both airline and hotel loyalty programs have extended the elite status of members, and I expect more will follow (in their own way) – and hopefully only after they read this article so that they can be better informed of the risk vs rewards of handing out free elite status.
Most notable are:
Marriott Bonvoy extended status for +1 year for all members based in China.
World of Hyatt extended status for +1 year for all members based in Asia Pacific.
IHG Rewards Club extended status for +1 year for China, Macau, Hong Kong & Taiwan members.
Shangri-La Golden Circle extended status for +1 year for all (Jade & Diamond) members worldwide.
Singapore Airlines Krisflyer selectively extended elite status of long-term loyal members.
Cathay Pacific Marco Polo is effectively gifting elite members a monthly 'club points' salary-of-sorts on a pro-rata basis depending on member tier.
Other hotels have offered extensions – see the full list here.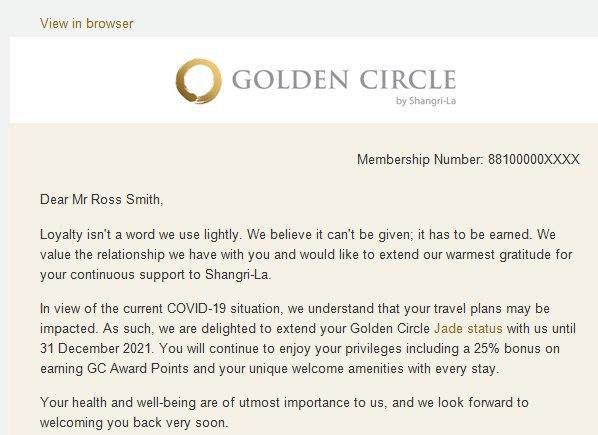 Should airlines and hotels approach status extensions differently?
Let's analyse how the basic loyalty program concept differs between airlines and hotels.
Hotel Loyalty Elite Status
The program focus is on driving paid room nights to the hotel chain
50%+ of hotel elite members split business between competing chains
Points cost borne by individual hotel properties, which are often franchised
No governing restrictions on gifting out elite status
Status is more readily matched by hotel programs compared to airline programs
Hotel status is used as a tool to drive channel shift (increasing direct vs OTA bookings)
Medium aspirational value of points and hotel benefits = medium aspirational value of status
Hotel status is often used primarily as a guest retention tool, with share of wallet growth a secondary objective
Airline Loyalty Elite Status
A high degree of loyalty, splitting rarely over 30%
The airline itself funding points via internal pricing
Airlines are often subject to Alliance rules which restrict gifting of status
Status used as a tool to capture high-value clients
High aspirational value of points and benefits for members = high perceived value of status
Pax retention and incremental ticket sales driver
Points earn from credit cards directly linked to ticket revenue – must be protected
As you can see, the factors that feed into the thought-process behind status-related decisions are different for hotels and airlines.
The underlying economics of the program, the relationship between the program and the parent airline/hotel chain, the relationship with revenue management, and the spend behavioural-profile of members are all different for hotels vs airlines.
As such – the decision-making process for airlines and hotels should be vastly different. This article will focus on the airline side.
Malaysia Airlines – The World Test Case
In 2014 after Malaysia Airlines faced unprecedented challenges from MH370 and MH17, members of the Enrich Loyalty program reported having their elite status extended for up to 2 years.
This was arguably the first real-world test case of "does extending elite status provide a revenue uplift in the short, medium and long term".
How the airline handled elite loyalty customers in the time of crisis was critically important for loyalty, for revenue management and their ability to sell seats, and importantly – for management and shareholders who are paying close attention to their investment.
The key approach for the airline depends if the elite qualification year works on a calendar year or a rolling/fixed month qualification year.
Choosing the wrong approach based on the program structure type can be costly. Or put more bluntly – gifting or to extend elite status to the wrong customer at the wrong time will have disastrous consequences for airlines on forward bookings and future ticket revenue.
From the perspective of someone who has run an airline loyalty program, the first step is to look at the customer segmentation data.
Ask the following questions:
How many member bookings were cancelled after the date the events took hold in the media?
Where does the member live?
Where does the member travel to frequently?
If no regular travel between city pairs, can the program project the type of travel intended to be booked by the customer? (eg: Do they work in the insurance business, where they fly to areas affected by natural disasters)
Is the member motivated by status campaigns?
What is the share of wallet from that member?
Does the member hold a co-brand card / has the member transferred significant miles into the program?
Total airline ticket revenue spend in the current period, verus the same period last year.
Secondly, we must keep in mind the loyalty program qualification structure for members. Where members currently sit within the re-qualifying period will determine what path to ultimately take, and how soon to act upon it.
Calendar Year Qualification
We're in Q1, 2020 – there are still another 9 months of the year in the current membership qualification year.  The majority of elite members wouldn't be near qualifying at this early stage.
Extending elite status for any member during such an early phase in their qualification year doesn't serve to help the member in any way at all.  Effectively, it gives a free pass to the member to not bother with making any attempt to requalify for elite status next year.
Malaysia Airlines operates on calendar year qualification, yet only communicated to members on the status extension toward the end of the calendar year.
The effect that this approach has is:
Members had a sense of loyalty and continued to fly with the airline, even when other options were available.
If the airline had extended elite status earlier (say, in July – halfway through the qualification year), it would have incentivized the most loyal, most profitable, and the very passengers who are most likely to continue flying with the airline — to fly with the competition.
By delaying the announcement on re-qualifying – it helped Malaysia Airlines generate much-needed cashflow from forward bookings, while still acknowledging the most loyal customer base in a manner that didn't devalue the program.
The big question is though – did those same high-value customers continue flying (and thus, buying expensive tickets) to earn status in subsequent years?
Rolling/Fixed month Qualification 
As a crisis drags on over multiple months – it has a greater effect on more members, as each month, more and more members will lose status due to the situation.
Cathay Pacific Marco Polo takes the view that by dividing up the 12-month qualification requirements into monthly blocks, and then awarding members a monthly salary-of-sorts, is one way to address these concerns.
This approach can be confusing for members — and confusion is the last thing you want to introduce into times of crisis.  It also provides zero recognition for passengers who don't fly regularly. Perhaps your family takes yearly vacations during Chinese New Year around the world in first-class, and therefore all of the flying takes place in Jan/Feb – leaving the rest of the year with zero earning.
Understanding the customer base through data analytics, through intent segmentation, share of wallet, and flight booking propensity models is critical to predicting forecast demand, and flights which these members may have otherwise booked under normal circumstances.  This is a perfect example of why Loyalty and Revenue Management should be best buddies.  The combination of data these two departments have makes for powerful outcomes.
What about the customer?
It's tempting for airlines to give in to public or management pressure and simply say – extend elite status for everyone affected.
After all – it's the customers who have invested their time and money with the airline. The customer has done their job, which is to stay loyal, fly and earn elite status.
In times of crisis, customers can look back to the airline and gently remind the airline that loyalty is a two-way street, and 'what are you going to give me in recognition of my loyalty?' 
From the airline perspective – recognising loyal customers is important and should never be ignored.
There are many ways to recognise long term loyalty — but gifting out the single most valuable asset an airline has to drive new business, as a 'thank you' tool, to hope that customer will continue sending more business – is the most flawed of all flawed premises.
Airline loyalty is an emotional journey for customers, and the gift which loyalty provides is emotional as well.
A business cannot solve a transactional problem (pax not flying) – with an emotional solution (extending status for free).  All that will achieve in the member's mind is devaluing elite status.  It won't help the members and it won't help the airline in the long term.
Instead, the solution and problem must match – and the key here is to ensure members have a way to buy-in to their elite status. A way to earn their status on merit.  Solutions like this exist in the market, and airlines can leverage from the data and expertise these companies bring to the table.
The Sugar Hit
Other factors to consider if the concept of extending elite status for everyone is raised, is what will happen long term to the elite member base as a result of the extension.
Any perceived PR/branding/marketing benefits the airline may enjoy from the short-term sugar hit of gifting out free elite status to the entire loyalty member base – will certainly be overshadowed by the loss in ticket sales in the coming one, two, three years.
In addition to high-value ticket revenue loss, the program would suffer from co-brand card cancellations as members are less vested in the brand, miles redemptions would skyrocket from these customers (or worse – the miles expire), share of wallet will drop and lifetime value will drop.
David Feldman, a partner at New World Loyalty explains how elite status qualification drives significant goal-gradient behaviour in the form of increased flight purchase activity, "Elite status is a powerful tool to assist airlines in moving the spend needle."
Gifting out status for free under such circumstances might have short-term positive impacts for the airline.  If you need to sell the cows to keep the farm – this is the option for you.  But it's absolutely the very last resort as it will kick the problem down the road – when it will be even more difficult to stimulate spend from loyal customers.
No matter what the airline does – some customers will stop flying
In summary – Airlines Loyalty Programs and Hotel Loyalty programs should ensure they have a strong grasp on data segmentation, and what impact extending or gifting status will have on the spend profile of the customers in those segments.
There's no right or wrong answer, and there is no 'Elite Status Emergency Blueprint' to work from, although Malaysia Airlines did a great job at managing their situation in the short term.
The key pieces are to ensure full understanding of the outcomes of every scenario, as whatever strategy the loyalty program chooses, the behaviour of the affected members will change.
There are two certainties, no matter the path:
A percentage of the database will stop spending with your airline/hotel.
A percentage of the database will continue spending with your airline/hotel.
Knowing which percentage and which segments of the database will swing more business your way, and which segments will spend less is the key to steering a successful elite status extension program in times of crisis.
---
Further Insights:   Join the global experts in airline loyalty discussing the topic of extending elite status benefits on the New World Loyalty Podcast.