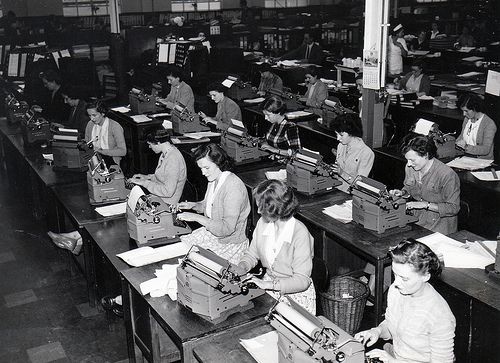 Ctrip is acquiring Skyscanner for numerous reasons but a big plus is its razor-sharp focus on data. Senay Boztas reports from EyeforTravel's Amsterdam Summit where 'data' is the conference buzzword
Like the typing pool of the 1950s, we will soon wonder why only data experts should deal with data. That's the view of Mark Shilton, Principal Data Scientist at data-driven travel metasearch engine Skyscanner, which yesterday announced that it is being acquired by Chinese online travel giant Ctrip for a cool $1.74-billion.
Speaking about the 'rise of the data scientist' at one of the most popular sessions at the EyeforTravel Smart Travel Data Summit 2016 in Amsterdam yesterday, Shilton pointed to a picture from the 1950s. Back then, long before the digital age, letters were dictated to shorthand typists, women who often worked in groups known as typing pools.
"This now looks really old fashioned. There's no reason you'd expect to have someone to do your typing," said Shilton, who continued that increasingly the same is true of data. "Data is becoming central to more jobs and more decisions are being made on data instead of opinion." For this reason, Accor is making data central to all roles while "focusing our data scientists on predictive analytics rather than reporting".
Skyscanner's approach, which has involved expanding its data team to 18 by training up the data analytics team, while giving everybody basic skills in how to deal with figures, has helped to make it a rising success story – something that clearly Chinese online travel giant Ctrip has clocked.
Data should drive decisions
Although 'data' was the conference buzzword, industry speakers – who came from companies including Thomas Cook, Trivago and Transavia – warned that it only has value when it leads to decisions.
The only thing that counts is the number of decisions you take and your ability to review decisions – not about having endless data sources

Ignazio Pisano, Group Revenue Manager, Europcar
"The only thing that counts is the number of decisions you take and your ability to review decisions – not about having endless data sources," said Ignazio Pisano, Group Revenue Manager, Europcar.
Meanwhile, Fabrice Otaño, Chief Data Officer at AccorHotels concurred; when they studied their data in detail, he said, the findings were "very surprising". (See A Day in the Life of a Data Scientist)
Of the heavy hotel using travellers thought to have the highest value to Accor's business, there appeared to be two groups: profit-generating 'aficionados' and 'excessive' customers who acquire points and then spend them, which ends up costing the company millions.
"They seem to be our best customers, [so] we push [them] a lot of free points," he explains.
But what then happens is that such guests end up spending their points on free stays, which is proving to be something of a problem for Accor. "Points are money, so they cost a lot. We want to target these guys with fewer points. Now we are focused on the 60 million interventions a day to understand what happens on the customer journey."
Words of warning
Others warned of the dangers of sinking into a marsh of data. "We are in an era of data pollution," said Javier Espinosa, Director of Forecasting, Analytics and Revenue Management at NH Hotel Group. "The future is to have tools and people to dig into it."
However, there was some debate about the cost of proper data management and utilisation. While Nevil Isaac, Director of Revenue Management at NH Hotels said they spent "more than a million" on systems, at the opposite end of the scale was Shay Raz, VP Revenue Management and Business Development at Leonardo Hotels – Fattal Hotels Group. He argued that "one lady who put in the data once a month was enough to take key decisions," using standard Microsoft Access and Excel software.
Meanwhile, Nicolas Alsterdal of Choice Hotels International, touched on the potential restrictions and minefields of proper data use: "We need to ensure everything we do is legal," he said.
Originally posted as 'Data, data everywhere but does it drive strategic decisions?' on EyeForTravel.